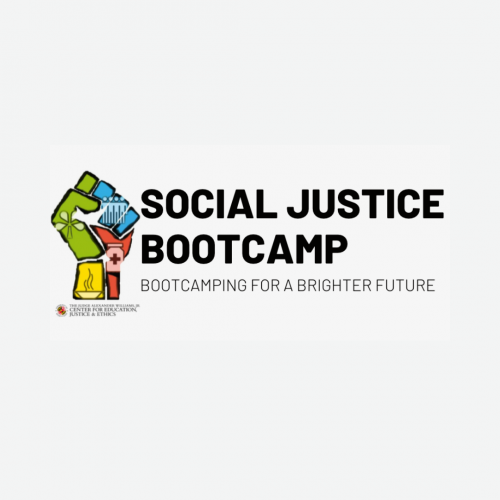 The Judge Alexander Williams, Jr. Center's (Judge AW Center) Social Justice Boot Camp (SJBC) is a signature program dedicated and designed to prepare the next generation of Social Justice Engineers (SJE). High School participants in this high Y.I.E.L.D. (Youth Initiative for Empowered Leadership Development) program are encouraged and equipped to imagine transformative solutions to five persistent challenges, which impact our lives locally and globally.
These challenges include (1) climate change and environmental injustice; (2) epidemic gun violence; (3) structural racism and inequalities; (4) socioeconomic disparities in health outcomes; and (5) knowing one's civil and human rights when interacting with law enforcement and the criminal legal system. The SJBC's curricular emphasis on social justice education is intended to inspire, engage, and galvanize students to become catalyst for social change in their communities. The SJBC challenges youth to become Social Justice Engineers who are critically informed, and engaged in developing solutions to contemporary problems.
On Friday, May 27, 2022, The Judge Alexander Williams Jr. Center hosted the annual 2022 Social Justice Bootcamp. The Social Justice Bootcamp trains students on social justice advocacy and provides students the necessary tools to advocate for change in their communities. By partnership with Douglass High School in Baltimore City, the Center educated students about opportunities to amplify their voices for systems change through social justice advocacy. The curricula focused on the five elements of social justice education:
Content Mastery

Critical Thinking and Analysis of Oppression

Action and Social Change

Personal Reflection

Awareness of Multicultural Group Dynamics 
Additionally, as developing Social Justice Engineers, participating students selected one of five critical focus areas to investigate throughout this immersive boot camp experience:
Climate Change and Environmental Sustainability

Racial (In)justice

Epidemic Gun Violence

Voting Rights and Civic Engagement

Public Health Equity and Outcomes Disparities 
We want to give a special thank you to AT&T and Christopher & Patricia Lambert for sponsoring this event and helping this idea come to fruition. Please reach out to Karen Bond at 

kybond

[at]

umd.edu

 for future partnership opportunities.