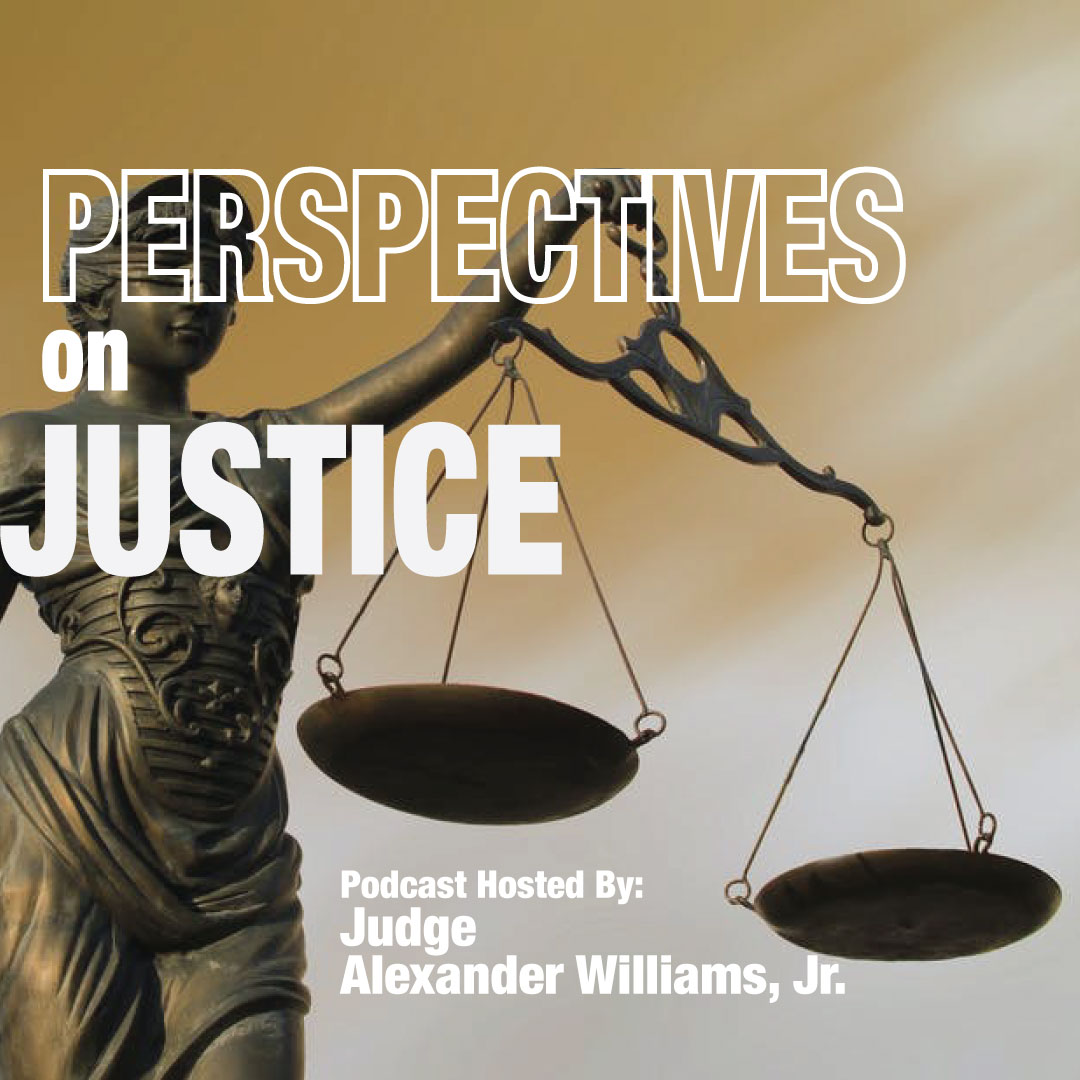 Perspectives on Justice, with Host Judge Alexander Williams, Jr. (Retired), is a Podcast Series that examines current news events and hot topics of the day as it relates to justice in America with guests of various and opposing perspectives.
Judge Alexander Williams:
       Appointed by President Clinton, Judge Williams served as a federal judge on the U.S. District Court Judge for the District of Maryland for nearly 20 years in the Greenbelt, MD Federal Courthouse based in Prince George's County.
       His demonstrated record of service and expertise include roles as:  elected State's Attorney for Prince George's County, Maryland, municipal attorney for the towns of Fairmount Heights and Glenarden (both in Prince George's County), juvenile master for Prince George's County Circuit Court, Assistant Public Defender for Prince George's County Public Defender's Office, Special Counsel and Hearing Examiner for Prince George's County Board of Education, and Professor of Law at Howard University School of Law.  He earned his undergraduate and law degrees, as well as an M.A. (Divinity) from Howard University and an M.A. in Religion from Temple University.
Synopsis:
        Justice in the broadest sense is fairness. Justice cannot assure that every dispute comes out "correctly" or that no mistakes are made, but it should be such as to assure that the process by which decisions are made.  Justice, from one point of view or another, can describe almost any conclusion regarding moral rightness. How the scales of justice are balanced often depends on the weights placed upon them, and this is, in most ways, a subjective affair.  In a weekly, one-hour podcast, retired, U.S. Federal Judge Alexander Williams, Jr. brings together political, academic, intellectual, and ethical experts to delve into current events and hot topics of the day for listeners to consider "Perspectives on Justice." 
       Each week, Judge Williams examines a topic with expert guests from their field.  His guests debate topics on social justice, criminal justice, and ethics.  The podcast begins with Judge Williams putting the episode of the podcast in perspective, based on the show topic, and setting up the topic for discussion/debate.  Judge Williams introduces his guests and begins asking a series of provocative questions that require his guests to defend their perspective on the topic.  This, oftentimes heated, debate/discussion will last for the remainder of the podcast. 
       Judge Williams is the Founder of the Alexander Williams, Jr. Center for Education, Justice and Ethics at the University of Maryland, College Park.  The mission of this policy center is to research, develop solutions to, and provide a forum for discussing the prevailing issues of (1) educational preparedness, (2) justice in social, civic, economic, jurisprudential, and media matters, and (3) ethical guideposts, all with a particular focus on underserved communities.  As part of this mission, "Perspectives on Justice" will advance the conversation on a myriad of issues surrounding the three pillars of the Judge AW Center.